Araminta Campbell launches luxury signature collection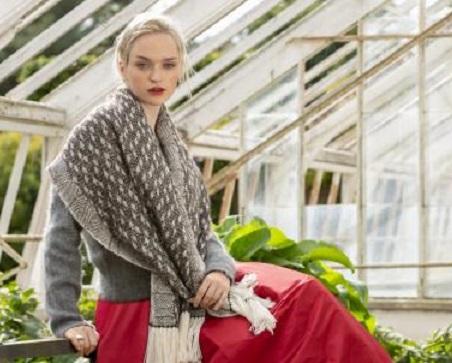 **Leading Scottish textiles designer launches luxurious new handwoven collection inspired by love of Scotland**
Innovative Scottish textile designer and handweaver Araminta Campbell has unveiled a new premium and effortlessly stylish collection of luxurious handwoven Alpaca shawls, cosy blanket wraps, stoles and elegant scarves that capture the essence of the natural landscape.
The new 'Araminta Campbell Signature Collection' showcases four handwoven, classically modern textile designs in delicate patterns that echo the contours of the living landscape. These sophisticated and timeless designs have been inspired by the company's founder Araminta's personal memories of her childhood in the country and her enduring love for nature and the countryside.
With the Scottish landscape the chief inspiration in her work, these textiles reflect the colours, textures and patterns Araminta observes in nature, and she approaches each as an artwork - a woven painting. Indeed, each exquisitely soft garment is an investment boasting the detailed workmanship and flair of a one-off piece of art.
Araminta combines these visual influences with a deep knowledge of Scotland's textile heritage and her expertise in weaving, to create pieces that are both imaginative and beautifully handcrafted with the finest, undyed British-reared alpaca fleece, which can be traced to specific herds. The soft alpaca fleece is spun at a specially selected mill in the Scottish Borders and then woven in Araminta Campbell's studio and workshop in Edinburgh using heritage 16-shaft and 24-shaft original George Wood looms, helping to keep alive centuries' old skills and traditions.
Due to the intricate handcrafted process and fine attention to detail – from beautifully-finished selvedges to delicately crafted tassels – and the unique shades produced by individual fleeces, each Signature piece can take up to ten days to create, and is completely unique.
The four evocative textile designs featured in the collection are:
• Staffa – inspired by the breath-taking basalt rock columns of the isle of Staffa off the coast of Mull. Mull is particularly special to workshop founder Araminta, from her own childhood holidays, to the white sand of Ardlannish beach where she was engaged to her sweetheart.
• Pebble – a delicate design inspired by smooth pebbles scattered along a Scottish beach or the shores of a crystal-clear Highland loch.
• Sycamore – An intricate pattern based on the twirling seeds of the sycamore tree, which gently drift to the ground throughout the Autumn and Winter months.
• Pine Cone – A long-held fascination for Araminta because their unique geometric shape.
These versatile investment pieces will elevate any outfit and work with everything in your wardrobe whether casual or formal, transcending day to night.
A luxurious Blanket Wrap, priced at £2,500 can be worn as a coat or as a statement piece over a light jacket, and is produced on the workshop's heritage 24 shaft loom. It takes six days to create, and features a beautiful hand-stitched edging. It is washed, brushed and finished by hand.
A new addition to the Signature Collection for A/W 2018 is a generous Wide Stole priced at £1,500. Created in a looser weave than the blanket wraps, these stoles are lighter to wear and drape beautifully, making them ideal for layering over a dress.
There is also a Classic Shawl, priced at £1,400, which takes five days to produce and features Araminta Campbell's trademark long length tassels. These classic shawls are the ideal investment piece for special occasions or represent a luxurious addition to a winter wedding ensemble or can be worn casually with jeans and boots.
There are two sizes of scarves: The Wide Scarf at £1,050 and a narrower Scarf for £850, which can be worn slipped under a lady's or gent's jacket or just behind a lapel.
Commenting on the launch, Araminta Campbell, said: "We have designed a collection based on four distinctive styles and naturally inspired designs to offer a choice of pieces that can be worn layered or on their own as a statement garment.
"This was no mean feat to produce, we've worked on these designs for a long time. It's a collection we're passionate about. It captures the essence of the brand, has personality and original designs with the highest quality of handcrafted finish. Alpaca is a wonderful fibre to work with, it's beautifully soft, lustrous and is naturally hypoallergenic, making it a luxurious alternative for anyone who may have a wool allergy. We believe no wardrobe is complete without an Alpaca piece!"
The natural shades of alpaca fleece span 22 hues with a colour palette ranging from soft creams to earthy browns, steely greys and the darkest black with hints of pinks, blues and caramels in some of the yarns. As soft as cashmere, alpaca yarn is 30% more insulating as the same weight of Merino.
The ultimate luxury gift or self-treat, Araminta Campbell pieces come beautifully presented in a classic presentation box with a natural cotton bag for safe keeping and tissue wrapped.
For more information, please visit www.aramintacampbell.co.uk or call the Studio on 0131 555 7395. Studio tours and personal shopping experiences are available by appointment.