Scottish designer unveils crowdfunding campaign for innovative post breast surgery luxury lingerie collection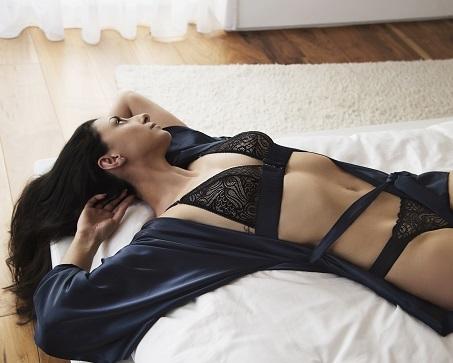 Edinburgh-based designer, Caroline Kennedy Alexander is launching a crowdfunding campaign on Wednesday 30 October to help grow an innovative post-breast surgery luxury lingerie brand.
Love Rose Lingerie is an emerging brand with an authentic story that's borne from Caroline's personal experience of breast cancer. Meeting a gap in the market for post-surgery lingerie that's beautifully made, feminine, comfortable and luxurious, this is a stylish underwear collection that delivers on design, fit, fabric and functionality for those living with the outcomes of breast cancer surgery.
The kickstarter crowdfunding campaign launches during Breast Cancer Awareness Month to help fund the first line of production, which includes bras and matching briefs, robes and suspenders. Swimwear, yoga apparel and sleepwear will be introduced in 2020.
The first Love Rose Lingerie collection comes in a variety of designs in three beautiful colours: Lux Green, Midnight Navy and Lotus Pink. The pieces can all be mixed and matched and are made from 100% recycled lace, 100% silk and breathable Tencel jersey, which is fully biodegradable, breathable and has antibacterial qualities. The different designs in the collection are playful and fun with names such as 'Satin Assasin Robe', 'Lights Down Low' and 'Honey I'm Home' bras, a 'Here Comes Trouble' suspender belt and 'Sassy Pant' amongst others.
The entire collection has been thoughtfully designed to take into account scarring, swelling and the support needs of post surgery wearers, including pocketed bras for women who wear prosthesis. Hidden support hammocks also negate the need for damaging underwires but allow for full support of the breasts or prosthesis.

Love Rose Lingerie has teamed up with two chosen charities to donate a percentage of profits to Maggie's and Coppafeel, a breast cancer awareness charity which focuses on promoting early detection of breast cancer by encouraging woman under 30 to regularly check their breasts.
Caroline Kennedy Alexander, who studied fashion design in Ireland and later sculpture at Edinburgh College of Art, has been working as designer and gallerist for over 20 years.
She was diagnosed with breast cancer in 2012. Caroline underwent several operations and radiotherapy and when it returned in 2015, she was left with no option but to have a double mastectomy with reconstruction.
As with many women facing pre and post surgery, there are feelings of fear and anxiety, of loss and challenges in how to adapt and dress a new body. Caroline explained:
"I felt I'd lost my femininity after my surgery and found it nigh on impossible to find bras that were comfortable as well as feminine on the market so I looked into developing my own line."
Caroline worked closely with Maggie's Centre and Edinburgh Western General Hospital to find out if other women felt the same. Her research identified a gap in the market for post-surgery lingerie that was soft, stylish and feminine which led to her designing her own LoveRose Lingerie range. The collection is named after her sister, Rose, who was also diagnosed with breast cancer and passed away in 2004.
Caroline, continued:
"I know first-hand how having cancer can really affect every part of your life and why it's important for so many women to still be able to feel good and retain their femininity after surgery, which is why I've designed this beautiful collection that I'm really excited to launch the Collection and scale up production with the help of our crowdfunding campaign. If anyone wants to pledge, they can do so from the 30th October."
Maggie's Edinburgh Cancer Support Specialist, Ali Clarke added:
"Body image and confidence are incredibly important issues for people living with cancer, as we hear in our centre every day where we help men and women to help them work through issues such as self-esteem and body confidence. Treatment can have a huge impact on a person's body and their sense of self and then being limited by what you can wear can add to those already raw emotions.
"Caroline knows what it feels like as a woman not to not have a choice after treatment and knows what a difference having lovely, feminine underwear, such as Love Rose Lingerie, can make to a woman's self-esteem.
"Her story is inspirational and it is wonderful she is donating a share of proceeds to Maggie's, as we rely almost entirely on voluntary donations we are very grateful."

Love Rose Lingerie will be sold online via www.loveroselingerie.com. Customers can use an easy online sizing calculator with sizing ranges from a small to 1XL with prices starting from £60 for a bra, from £40 for matching briefs, £250 for the Robe and £70 suspender belts. The crowdfunding campign launches on 30 October 2019 and is geared to help scale up production. https://www.kickstarter.com/projects/ckalexander/loverose-lingerie.