New Ji collection unveiled by Jeffreys Interiors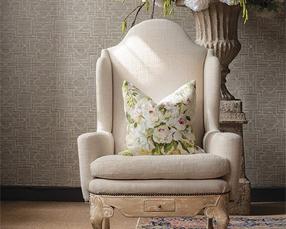 Truly bespoke to Jeffreys and a first for this award-winning design house, the exciting new Ji Collection brings a touch of artisan country styling with a contemporary twist.

Offering a beautiful range of upholstery including sofas, occasional arm chairs and stools, this Collection reinforces Jeffreys' commitment to craftsmanship, quality and heritage. Many of these designs feature artisan upholstery and traditional furniture making crafts such as the eight way Hand tied method, whereby each coil spring is held in place by eight strong knots.

Managing director Jeff Laing picked out a few of his favourite pieces including the new beautiful hand crafted Kincairney Chair. Creating a focal point for the hall or living room, this is a standout piece made with solid Kiln Dried Walnut wood which comes in a classic, neutral and naturally calming oatmeal or alabaster linen fabric - the perfect complement to bright, colourful accessories. The Kincairney is also eight way hand tied thereby offering the ultimate guarantee of quality and comfort that will last the test of time. Priced at £1191.

Truly stylish, the Stenton Chair in oatmeal linen comes in a walnut wood with a distressed chalk finish, is fully upholstered and features brass nail detailing for added contrast. Priced at £1391.

The Ballathie is a classic yet contemporary roll arm sofa, which comes in a walnut dry finish with Antwerp Oatmeal or Alabaster upholstery and no nails! Available in three sizes: 180cm, 210cm and 240cm with prices starting from £2691.

Jeff Laing commented: "It has been a long held ambition of mine to launch a collection that's bespoke to Jeffreys Interiors so it's exciting to finally bring it to our clients. We have one of the best design teams in Scotland so have collectively chosen designs that will stand the test of time with the highest quality of finish, contemporary detailing and beautiful fabrics."

Alison Vance, Design Director, added: "Our aim with this collection was to create affordable pieces with a luxury feel that reflect our character and individuality whilst complementing a variety of styles and living spaces. We've deliberately kept to a classic, neutral colour palette with natural materials and contemporary detailing that suits both country and urban living."

The new Ji collection is available exclusively from Jeffreys Interiors from mid-May 2016.

Jeffreys Interiors is located at 8 North West Circus Place, Edinburgh and The Old Church on Tay Terrace, Dunkeld. For more information please visit www.jeffreys-interiors.co.uk or call 0131 247 8010.