Knockando weaves joy into new 2020 collection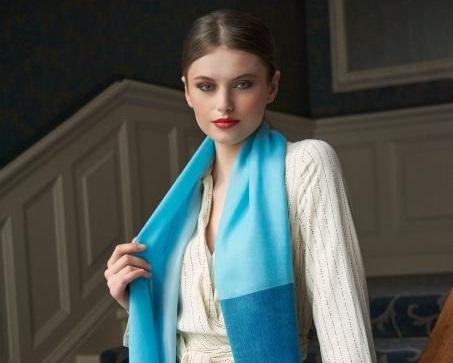 Embracing the playfulness and magical colours of warmer climes, a delicate new extra fine merino wool collection called Joy by Knockando Woolmill has been inspired by the hues of Scottish summers in Speyside.
Joy, from Scotland's oldest working woolmill, is a limited edition woven collection of extra fine merino wool scarves and extra-large throws in three stunning colours: coral red, garden green and burn blue.
Reflecting the joyful colours of the Mill with its coral red roof, whimsical garden grounds and babbling Knockando burn, this new collection for 2020 features a classical yet stylish plain weave design. A twin vertical stripe pattern has a deeper panel to one side to allow for variation and versatile styling.
Merino Wool is a wonder fabric, often hailed as a magical wool. One of the softest fabrics available, it's comfortable and as luxurious as cashmere yet finer and more lightweight resulting in an exceptionally soft and smooth fabric you can wear right next to your skin.
With moisture control qualities, pure woven merino wool is also an active fibre that reacts to your body temperature so it will keep you cool on a hot day. It's also highly breathable so you can layer and wrap up warm with it or wear it on hot summer temperatures so it's perfect all year round.
The new blankets are so soft and light, you can use them as a throw or blanket. Along-with the scarves, these extra fine merino wool pieces won't wrinkle or crease and can be machine washed.
RRP for the Extra Fine Merino Scarves - £175 including VAT with the Throws priced at £425 including VAT.