Latest breakthrough in glaucoma treatments launches in Scotland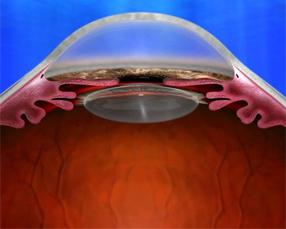 Glaucoma can now be cured with the first ever keyhole surgical method, a simple yet innovative injection called the Xen Gel Stent.

Unveiled at one of Scotland's leading private day-case hospitals, The Edinburgh Clinic, the new Xen Gel Stent is a revolutionary treatment in the fight against one of the leading causes of irreversible blindness, which affects two in every 100 people over 40 years old.

Ophthalmic surgeon and glaucoma specialist, Dr Andrew Tatham comments: "This is without doubt the biggest breakthrough we've seen for years in the treatment of glaucoma. A tiny pliable drainage tube is injected into the eye, which allows excess fluid to drain thereby relieving high eye pressure and preventing damage to the optic nerve. It's a quicker and safer method than previous treatments with no requirement for stitches."

It is believed that around 600,000 Brits suffer for glaucoma, which is essentially a narrowing of the vision causing a loss in peripheral and then central vision. Excessive build up of liquid in the eye causes high pressure and damage to the optic nerve resulting in misery for over half a million people and for some irreversible blindness.

Glaucoma is most often treated using eye drops but many people eventually need surgery to help preserve their sight. The most common operation is known as a trabeculectomy, which involves creating a small drainage channel in the eye. Trabeculectomy requires a long operation during which several stitches are placed in the eye. There is also a small risk of the pressure in the eye becoming too low, which can reduce vision. This older form of surgery is more invasive and can have a long recovery period.

The Xen Gel Stent is less invasive than the traditional trabeculectomy method, at only 6mm long and the width of human hair, it can be injected easily and comes with a much faster recovery time. Surgery takes minutes and the eye is completely recovered within a few weeks.

Dr Andrew Tatham, concluded: "As with any treatment, the Xen Gel Stent may not suit everyone however we are anticipating that many patients will benefit from it. There are real advancements being made in the fight against glaucoma and this new technological breakthrough follows closely on the back of the launch of the Triggerfish lens, which monitors eye pressure over a 24-hour period allowing a more effective and detailed picture of the patient's eye health.

"Glaucoma is a debilitating disease and it's encouraging that the medical advancements we're seeing today will help ease the suffering of hundreds of thousands of people."

The first patient to be treated by Dr Andrew Tatham in Scotland is a 60 year old retired police officer from Ayrshire, he said: "I was diagnosed with Glaucoma in my late 50s. It was thankfully caught early on and was managed with eye drops and laser surgery but to avoid further deterioration, I opted for this new procedure. The Xen Gel Stent was fitted in thirty minutes, I had a follow up appointment the next again day and can honestly say that I'm delighted with the results, it was a painless, straightforward procedure. I'd highly recommend anyone with glaucoma finding out more about this, its micro-invasive so you can't feel the stent being fitted and wouldn't know it was there, it's also such a quick recovery time compared to other procedures."

The Xen Gel Stent, is priced at £3,100 and is available from The Edinburgh Clinic, part of Aspen Healthcare. For more information on opening hours and treatments or to book a consultation, please call The Edinburgh Clinic on 0131 447 2340 or visit www.edinburghclinic.com.