Leading Insurance Firm Partners with Record Breaking Beaumont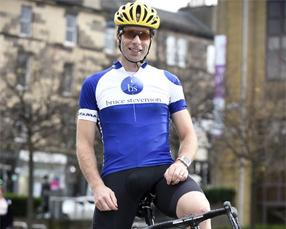 The strategic three year partnership sees Mark Beaumont support the business across tailored events and charitable activities including launching a charity cycle in 2017. His role will also help to motivate and inspire some 90 staff across offices in Edinburgh, Glasgow and the Scottish Borders.

Mark initially shot to fame after completing an 18,000 mile round the world bike race and smashing the previous world record by 82 days. He then cycled the length of the Rockies and Andes, a total of 13,000 miles. Off the bike he has rowed the Arctic and survived after capsizing whilst rowing the Atlantic. 2017 holds some fresh challenges for the endurance athlete.

Commenting on the partnership, Mark Beaumont said: "I am delighted to be working with the Bruce Stevenson team. They are a very successful, trusted and ambitious team, where I can add expertise at many of their events and business activities. In addition, I am building on the success of last year's Africa World Record with the largest expedition of my career in 2017, so I am sure the Bruce Stevenson team will enjoy being a part of my world, where I continue to push the limits of endurance."

Edward Bruce CEO, added: "This is the first time that we have brought in an ambassador such as Mark and it's a fitting partnership. Mark is a highly motivational business ambassador and mentor. The passion and determination that drives Mark forward is inspiring and we look forward to developing the relationship to the benefit of our clients and employees."

For more information, please contact Emma Strachan, Bruce Stevenson Insurance Brokers on 0131 553 2293 or visit www.brucestevenson.co.uk

Notes to editors:
Currently the largest independent insurance broker in Edinburgh and the second largest in Scotland, Bruce Stevenson Insurance Brokers were founded by CEO Edward Bruce's father, David Bruce, in 1981 with Tony Stevenson.

The Chartered Insurance Institute granted Chartered Insurance Broker status to Bruce Stevenson in 2010, a title held by fewer than 100 brokers in the UK. The firm is also a founding member of the prestigious UNA Alliance, which represents twelve of the largest and most highly-respected independent regional insurance brokers throughout the UK. The company also holds a prestigious three star accreditation for 'exceptional customer service' by Investors in Customers, one of less than 15% of companies to achieve this accolade on the first attempt and the second highest overall score of a financial services company in the UK.