New Intercontinental captures spirit of The George with luxury gin launch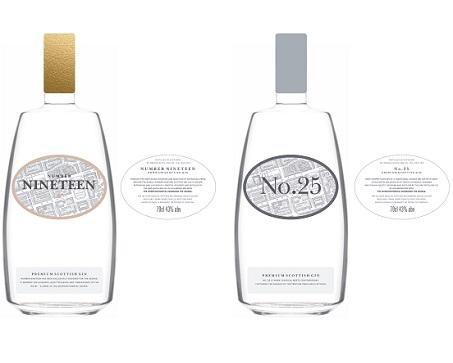 Exclusive Number Nineteen Gin in collaboration with The Oro Distilling Co.
The coincide with the launch of InterContinental® Edinburgh – The George, a new signature gin brand – Number Nineteen – has been created in collaboration with the independent Scottish distillery, The Oro Distilling Company to complement the classical style and tastes of the world renowned InterContinental brand.
The new Number Nineteen gin is the second small batch gin to be launched by the property – No.25 launched back in 2017 - and features an exclusive botanical recipe that has been entirely designed and distilled with gin experts from both the hotel and the distillery.
Featuring a blend of 15 botanicals from around the globe, Number Nineteen has a classical London Dry style with a fresh bright note. Referred to as a Scottish Dry Gin, Nineteen has a fresh bright note, which perfectly represents the George's heritage and its new era as an InterContinental property following the completion of a multi-million pound refurbishment in July this year.
Macedonian Juniper, Italian and Moroccan Coriander sit alongside Cassia from the Far east, Cinnamon from Sri Lanka, Citrus from Spain and a rare green cardamom from Guatemala. Fresh notes come from Lemon Verbena, Thai Lemon Grass and Kaffir Lime Leaves.

On the palate, this beautiful botanical combination initially delivers robust notes of juniper followed swiftly by bright citrus notes that evolve into zesty notes. Nineteen finishes with a smooth dry note, ensuring that clean London dry style is enjoyed.
Ray Clynick, managing director and head distiller for The Oro Distilling Co. said:
"We're really excited to launch the new Number Nineteen gin brand, the bottle looks fantastic with the design mirroring the elegance, quiet opulence and timelessness of The George. With our exclusive blend of Botanicals, we recommend a Mediterranean tonic serve with a garnish with Orange twist to bring out the notes and flavours."

The label for the new Nineteen gin brand has gravitas and has been cleverly designed to reflect the property's Georgian heritage and values with an original map of Edinburgh's George Street and label border that's reminiscent of a Georgian door number. Subtle dots within the design act as a pinpoint for the Printing Press Bar & Kitchen and Hotel.
Andreas Maszczyk, general manager, InterContinental® Edinburgh – The George, said:
"The new Nineteen gin follows the successful launch of our No.25 gin, which has been hugely popular. This exciting addition to our gin portfolio not only tastes delicious but it is a perfect embodiment of all that InterContinental brings: global sophistication and true dedication to exceptional quality with its blend of worldly botanicals and artisan craftsmanship."
Available at The Printing Press Bar & Kitchen, George Street; Number Nineteen (25ml) for £5 and £49 per bottle.
The Perfect Nineteen Serve:
25ml measure of Number Nineteen
Fever Tree Tonic (your choice of flavour)
A simple orange garnish
The gin does the rest!