Baxters 150th Anniversary in the can with Aerial Poster Drone Stunt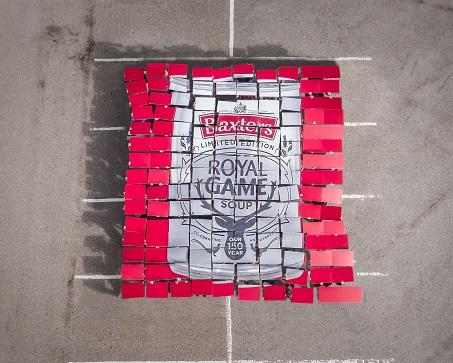 150 Baxters' runners set to go head to head in 2018 Baxters Loch Ness Marathon & Festival of Running (22-23 September)
Baxters' Fochabers factory in Moray in the Scottish Highlands provided the picturesque backdrop for an ambitious aerial stunt today with 150 staff as part of the leading food group's long-standing sponsorship of the UK's most scenic marathon - the 2018 Baxters Loch Ness Marathon & Festival of Running.
This challenging drone shot, which marks Baxters' 150th anniversary, was managed by Scottish media producer Airborne Lens who had under 60 minutes to capture the footage. The 150 employees - who took part have signed up to run in either the Marathon, River Ness 10k or 5k events for Macmillan Cancer Support in September - re-created the Marathon logo and 150th limited edition soup can in a giant aerial poster to raise awareness of the fundraising campaign and Marathon entry deadline.
Audrey Baxter, Executive chairman and Group CEO at Baxters, said:
"We're extremely proud to be the title sponsor of the Loch Ness Marathon once more in what is a very special year for us as we celebrate our 150th anniversary.
"Just as we have evolved through four generations of family ownership, we've seen the event grow and grow in this spectacular location in the Scottish Highlands, which we have been lucky enough to call home since 1868. We applaud everyone taking part in the race, from the novice joggers, to the seasoned runners, and families of all ages, and would like to thank our employees, especially those running on the big day, for their continued support."
Race director Malcolm Sutherland, added:
"We are delighted to be marking our longstanding relationship with Baxters and this moment goes a long way to capturing this special relationship as a moment in history.
"Guaranteed entry into this year's Baxters Loch Ness Marathon is still available until this Sunday 1st July so we are urging anyone who is interested in joining us for our spectacular event and the 150th Baxters celebrations, to sign up now. You don't have to have run a marathon before, there's still time to train for it if you fancy taking up a new challenge or you can tackle one of the shorter routes instead."
The Baxters Loch Ness Marathon follows a spectacular point-to-point route alongside the world-famous Loch Ness, starting in an atmospheric moorland setting between Fort Augustus and Foyers then continuing through stunning Highland scenery along the south-eastern shores of Loch Ness, across the River Ness, finishing in Inverness, capital city of the Highlands.
In addition to the marathon, the Festival of Running also incorporates the River Ness 10K, 10K Corporate Challenge, River Ness 5K and the Wee Nessie children's race. There is plenty to entertain runners and spectators all weekend with a Sports Expo, Runners' Café, the Baxters Food & Drink Fayre, live music and family-friendly activities.
Guaranteed entry for the Baxters Loch Ness Marathon is available until midnight this Sunday 1st July at www.lochnessmarathon.com. After this date, marathon entry is available via the official charities and for international and club runners until 3rd September, which is also the closing date for the 10K and 5K races.
Notes to editors:
Drone stills and footage supplied. For additional commentary from participating runners, photography or information on the Marathon, please contact Jigsaw PR & Marketing
About Baxters Loch Ness Marathon
The Baxters Loch Ness Marathon and Festival of Running comprises the Baxters Loch Ness Marathon, Baxters River Ness 10K, 10K Corporate Challenge, River Ness 5K and Wee Nessie. For further information visit www.lochnessmarathon.com
Follow on Facebook, Twitter @nessmarathon and Instagram, #RunLochNess
Winner of 'Best Marathon <5000 participants' at the 2017 Running Awards in London.
Title sponsor is Baxters Food Group for 17th year running. Supporting sponsors & partners include: EventScotland, Clif Bar, Highland Spring and Run4It
Participants in the 2017 Baxters Loch Ness Marathon & Festival of Running generated an estimated £608,200 for charity. The official charity for 2018 is Macmillan Cancer Care with lead charities: Alzheimer Scotland, Highland Hospice and MS Society Scotland, and a further 12 participating charities.
About Baxters 150th
In 2018, Baxters is celebrating 150 years as one of the UK's best-loved food producers
For four generations, the Baxter family has been producing some of the UK's finest soups, preserves, condiments, beetroot and chutneys
150 years of family know how and expertise goes into every one of our products
Inspired by the Baxter family's passion for great tasting food, we continue to create and innovate to produce delicious new products