North Berwick high school scores with Coulters' support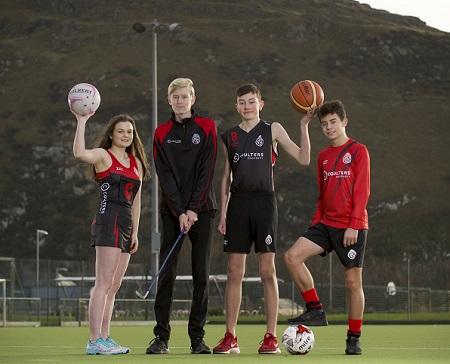 Coulters, the leading independent solicitor estate agency has announced a sponsorship of North Berwick High School's extra-curricular sports programme. Coulters will provide new sports kit to over 300 local children taking part in a variety of sports, starting this year with football, netball, golf and basketball, and in 2020 rugby and hockey.
With three established offices in Edinburgh, Coulters' sponsorship follows the firm's expansion into East Lothian last year and supports the team's commitment to support the local community.
North Berwick High School already has a hugely successful extra-curricular programme with children taking part in a whole range of activities, and they are continually adding to this list with activities such as golf which did not previously exist. Being situated on one of the most iconic golfing coasts on the planet, Coulters was keen to help support golfing for pupils.
NBHS is an ambitious school, which consistently punches above its weight both academically and in extracurricular activities. The pupils, teachers and coaches are committed to improving year-on-year and they are very much living by their moto "Aim Higher". The school shares values with Coulters and the firm is proud to partner with such an exemplary school.
A number of pupils over the years have even excelled into participating for their country along with reaching Scottish cup finals and British Championships. The NBHS U15 Netball team recently won Bronze at The World Schools Netball Cup which was a huge achievement for everyone involved.
The school has been involved in the design of the new kits, and on every piece their moto takes a prominent place, a reminder of the ambitious culture within the school.
Sophie Duns, Associate Director at Coulters commented:
"Having attended NBHS myself as a pupil and studied Physical Education at university, I am really excited and proud to be supporting the school's extra-curricular sports teams. Participating in sports is proven to have an enormous impact on lifelong health and wellbeing and something I myself was lucky enough to enjoy and participate in throughout my school years, so it's great to be giving back."
Alan Macdonald, PT Health and Wellbeing at North Berwick High School, said:
"We are delighted to receive support from Coulters. They have been creative, approachable and supportive in helping us plan new kit designs for our sports teams. We look forward to working with them as we continue to enhance the sporting community here at North Berwick High School."
Ben Di Rollo, director at Coulters, added:
"We are proud to partner with North Berwick High School and look forward to building a successful partnership with them. It's important that the pupils, regardless of their sports discipline, have up to date kit and for a school which wins Scottish cup finals and reaches British Championships, all pupils should be able to wear their school colours with pride. Wellbeing is incredibly important, more so than ever in today's world of iPads and computers, we are eager to support the school and do our part to encourage children to participate in sport, be outdoors and stay active."