Principal Edinburgh George Street launches exclusive gin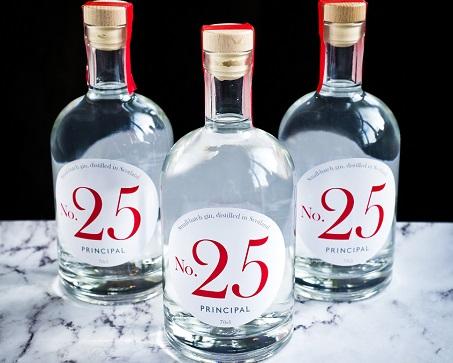 Principal Gin takes pride of place on the menu at The Printing Press Bar & Kitchen
The Principal Edinburgh George Street has launched its own and exclusive gin brand – Principal Gin. In collaboration with Scottish distillery, The OroGin Distilling Company in Dumfries and Galloway, Principal Gin is based on a unique recipe that has been entirely designed and distilled with gin experts from both the hotel and the distillery.
Commenting on the launch of Principal Gin, Assistant Manager at The Printing Press Bar & Kitchen in Edinburgh, Andrew Lennie said:
"Principal Gin is a perfect blend of both style and taste, inspired by the timeless elegance and luxurious ambiance of the hotel. The handpicked botanicals used, offer a real sense of exotic and Mediterranean blend that fuse beautifully together to create an exciting yet supremely balanced gin. The Printing Press Bar and Kitchen boasts an exceptional selection of gin brands, so the creation of our own was the natural next step."
With an international offering the Principal Gin reflects the continental guests that stay at the hotel, with fresh crisp juniper combined with zingy Spanish citrus notes, precisely balanced with delicate notes of French lavender and Italian violets.
Andreas Maszczyk, General Manager, Principal Edinburgh George Street said:
"We are very excited to now have our very own exclusive gin, and look forward to sharing this with our regular guests and local customers."
Available at The Printing Press Bar & Kitchen, George Street; Principal Gin has the initial taste of a traditional London Dry Gin, combined with a robust flavour to create a velvety smooth gin.
Principal Gin (25ml) costs £5, or £39 per bottle.
The Principal Perfect serve
25ml measure of Principal Gin
Fever Tree Tonic (your choice of flavour)
A simple lime garnish
The gin does the rest!
For further information or images please contact Jigsaw PR:
T: 0131 466 1539
E: Audrey Cassels, Audrey@jigsawpr.com
Note to Editors:
The Printing Press Bar & Kitchen
Open daily, serving: lunch, dinner and late night bar snacks and cocktails
Restaurant: 12noon – 10.30pm, Bar: 11.30am – 01.00am
Address: The Printing Press Bar & Kitchen, 21-25 George Street, Edinburgh EH2 2PB
Book online at: www.printingpressedinburgh.co.uk or call 0131 240 7177
The Printing Press Bar & Kitchen is part of the Principal Edinburgh on George Street which has been welcoming hotel guests since 1881. At its heart are five listed Georgian townhouses, built in 1775 as homes for Edinburgh's most prosperous citizens.
Principal Edinburgh George Street- Winner of Scottish Hotel of the Year at the 2017 Scottish Hotel Awards.
The OroGin Distilling Co. Ltd.
A family owned distillery based in Dalton, Dumfries and Galloway.
Dedicated to creating the perfect gin, using a more scientific approach; scientific research and experimentation using the World's finest botanicals has been undertaken by Head distiller, who holds a Masters in Chemical Biology and also a Masters in Brewing and Distilling