State-of-the-art gallery launches in Glasgow with new work by globally-renowned artist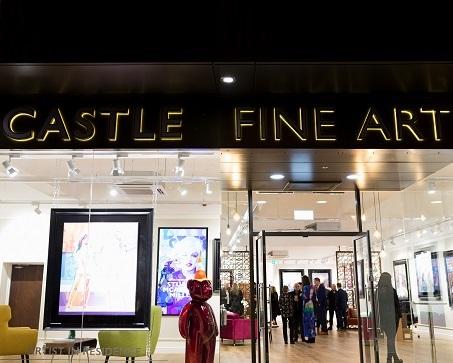 Leading group of retail art galleries, Castle Fine Art, has relocated and opened a new flagship gallery in the heart of Glasgow's fashion quarter.
Formerly located in Princes Square for almost a decade, the new state-of-the-art gallery officially opened in November 2017. The opening was celebrated with a special appearance from globally-renowned local artist, Stuart McAlpine Miller, who unveiled new original works including a series of Scottish themed pieces.
McAlpine Miller is the appointed Artist in Residence at The Savoy Hotel, London, where his 'A Time for Reflection' series of eight paintings permanently resides in its iconic foyer. A 1990 graduate of Glasgow School of Art, the Dumfries-born artist attracts the attention of galleries, critics and collectors across the world.
The new Castle Fine Art gallery is situated in a prime location opposite the renowned Gallery of Modern Art and is the latest addition to the company's rapidly expanding portfolio of 36 galleries across the UK.
The circa 3,000 sq.ft. premises has undergone a major renovation of the highest specification over several months, investing £175,000. Interiors have been designed with state-of-the-art lighting to complement the wide range of art on display. The gallery also features bespoke furniture and specially designed viewing lounges allowing customers to envisage how the pieces would look in their own homes.
Set to redefine the way people experience, view and buy art in Scotland, the gallery will appeal to art enthusiasts and collectors seeking innovative work, including pieces by famous names from the music world, such as Bob Dylan and Ronnie Wood.
Paul Watson, regional sales director for Castle Fine Art, said: "We are working through a period of rapid expansion and this continued investment in our business will ensure that we are best placed to deliver an enhanced gallery experience for our customers in Scotland.
"We are extremely proud to be unveiling exciting new works from Stuart McAlpine Miller for the launch and look forward to welcoming new and existing clients to our gallery."
Stuart McAlpine Miller added: "The launch of the new Castle Fine Art gallery in Glasgow is incredibly exciting and it's fantastic to be exhibiting in the city again after more than 20 years.
"It will be a real honor to unveil my four new Scottish pieces in such a prominent gallery. I recently returned to Scotland after what feels like a lifetime away. You never forget your roots and this feels extra special, it's like a homecoming."