Rosebery Estates unveils castle on Dalmeny Estate for exclusive hire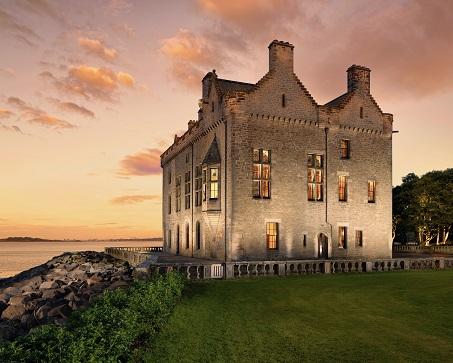 A spectacular 13th century castle in Edinburgh, rebuilt as the seaside retreat of a Victorian Prime Minister and closed since his death in 1929, officially opens in May 2019.

Barnbougle Castle on the Dalmeny Estate is an exclusive hire venue for private parties, gala dinners, corporate events, meetings and weddings. Pre-bookings for this unique castle, which has been owned by the Primrose family, Earls of Rosebery, for nearly 400 years, are being taken now with the doors opening next month. Never before open to the public or to more than a few chosen guests, and closed for the last 90 years, Barnbougle Castle is one of Edinburgh's hidden treasures.

Enjoying sweeping coastal views overlooking the Firth of Forth, this dramatic castle sits majestically within the Dalmeny Estate on the western edge of Edinburgh, with private beaches framed by enchanting woodland and landscaped grounds. This is truly one of Scotland's most outstanding heritage venues, blending location, tradition and historical significance. There are two large event spaces within the castle, catering for up to 200 guests. Groups of up to 450 people can be accommodated with the option of marquees in the garden and adjacent Castle Park, which is edged by several hundred yards of sandy beach.

Conveniently located a mere seven miles from the heart of Edinburgh's city centre and a short 15-minute drive from Edinburgh International Airport, the Castle benefits from easy access to the Forth road bridges and main motorway networks. Three miles from Dalmeny train station and nearly two miles to the nearest bus stop, the Castle is approached by a private drive going past Dalmeny House, the family home of the Earl of Rosebery.

What makes Barnbougle Castle unique as a venue is its magnificent location, splendid interior and a rich heritage extending back to the age of William the Conqueror. In 800 years, it has only ever been home to three families: the Moubrays, who arrived from Normandy in the 11th century, the Hamiltons, and the Primroses. The original castle was built in the 13th century to protect the Moubrays from their enemies and it reputedly became a convenient base for piracy and smuggling.

It was bought by Sir Archibald Primrose, father of the 1st Earl of Rosebery, in 1662 but by the late 18th century was damp and dilapidated so plans were drawn up for a replacement. After 1817, when the 4th Earl had completed Dalmeny House, a quarter of a mile away, the Castle lay dormant and, following an accident with explosives, fell into ruin. In 1881 it was rebuilt by the newly-married Archibald Primrose, 5th Earl of Rosebery, as a family beach house. Soon after, with four small children and a growing political career, it became his peaceful private domain for writing and rehearsing speeches.

The 5th Earl was widely regarded as a brilliant orator, an outstanding sportsman, historian, biographer, connoisseur and collector. He was also an active Liberal politician who was Foreign Secretary twice and briefly Prime Minister, although he came to regard politics as "an evil-smelling bog". He viewed Barnbougle Castle as his sacred retreat – with no admittance allowed except by him in person – and deliveries made by a sunken road that led into the cellars. It became a dramatic study-tower with six separate libraries, one bedroom and a balconied hall where he could practice his speeches. So strong was the 5th Earl's spiritual link with for Barnbougle that his treasured Castle was simply closed up at his death and preserved in time.

Barnbougle offers a historical experience unlike any other, combining palatial grandeur with intimate interiors and extensive views. It offers a fascinating insight of days gone by, for within this iconic time capsule, with its crowstep gables and crenellated parapets, are many of the original furnishings and ancestral portraits that were brought here by the 5th Earl of Rosebery. The Castle is home to ten thousand books, a dramatic stone spiral staircase and a marble sea-water bath.

The most astonishing space within this venue is its glorious barrel-vaulted Banqueting Hall, 60 feet long, 30 wide and 30 high. Some of the Victorian age's brightest minds gathered here for convivial conversation and spirited debate. Today's guests can follow in their footsteps, dining within the grandeur of the Banqueting Hall, admiring the books in the Scottish Library, enjoying sweeping vistas from the waterside terrace, or sipping the family's Great British Vermouth – hand crafted on Dalmeny Estate.

The charming character, romantic setting and versatile rooms combine to create an idyllic and unrivalled fairytale wedding or events venue. Guests can take their event outdoors to the waterside terrace and delightful grounds, enclosed between the Firth of Forth and acres of lawn and woodland - providing secluded and beautiful spaces in which to enjoy the tranquility of the Estate. Barnbougle Castle, which is completely secluded and yet self-contained, has been thoroughly modernised in its catering and other facilities – making it the perfect choice for corporate or private events and family gatherings.

Commenting on the unveiling of the Castle, Lord Dalmeny, son of the 7th Earl of Rosebery, said:
"Barnbougle Castle was the original home of our family until the 4th Earl of Rosebery built Dalmeny House – the old Castle was cold, damp and draughty, and a wave is said to have put out the dining room candles. The 5th Earl, my great grandfather, rebuilt Barnbougle, which is only a short walk from Dalmeny House, into the ultimate luxury "shed at the bottom of the garden" installing 6 libraries and one bedroom – he rebuilt the sea wall to keep the waves out and installed a marble salt-water bath for when he wanted the sea in.

The Castle holds a very dear place in our hearts and many memories – as children, we were allowed as a special treat to go to tea with the caretaker and explore the Castle. In 2019 it will be 90 years since the 5th Earl died and in February my father, the 7th Earl, will turn 90, It seems like the right time to re-open the doors of Barnbougle Castle – our first event will be his 90th birthday party.

"We've modernised the infrastructure to bring it up to date, but changed as little as possible. There is a magical, almost breathtaking feel to Barnbougle Castle – it is a wonderfully romantic place where time seems to stand still. We look forward to welcoming visitors and guests. It will be exciting to see the Castle reborn as a place where new memories can be made."

For more information, please visit www.roseberyvenues.co.uk or contact marketing@roseberyestates.co.uk for prices and availability.