Thousands cross the line for Baxters Loch Ness Marathon and Festival of Running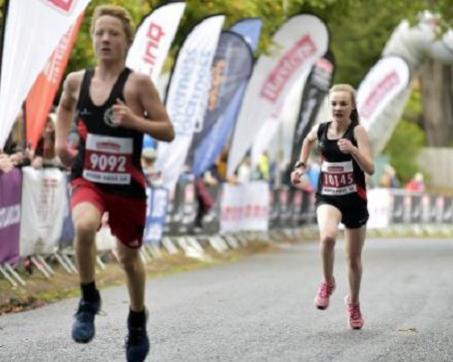 The 17th annual 2018 Baxters Loch Ness Marathon and Festival of Running attracted thousands of spectators with Jordanian Mohammad Aburezeq from Altrincham & District AC crossing the line in 2:22:56 the first male runner over the marathon finish line today (Sunday 23 September) with Sheena Logan from Fife AC the first female runner in a time of 2:51:11.
8000 runners registered for this year's series of events with thousands of runners crossing the marathon finish line and accompanying Baxters River Ness 10K, 10K Corporate Challenge, River Ness 5K and Wee Nessie events.

In the Baxters River Ness 10K, the first male was Euan Gillham from Kilbarchan AAC in 00.30:22, while the winning female was Jenny Bannerman from Inverness Harriers AAC in 00.34.53.

Canadian Roger Macmillan, 80 years old, was the oldest runner to take part in the marathon with this race representing the eighth time he's run the Baxters Loch Ness Marathon. It's also his 110th marathon event. The oldest competitor aged 86 years was Helmut Folgar from Germany who ran the Baxters River Ness 5K.

Renowned as one of the most scenic marathons in the world, runners from as far afield as Africa, Australia, Germany and France travelled to Inverness in the Scottish Highlands to participate.
Commenting on the 2018 event, race director Malcolm Sutherland said:
"It has been fantastic to welcome the many thousands of runners, new and returning, to the Highlands for a weekend of spectacular running. The atmosphere at the Event Village in Inverness and spectator encouragement supporting all of our runners has been unprecedented, it's an incredible achievement to complete a marathon and we'd like to congratulate everyone who took part.
"The Baxters Loch Ness Marathon and Festival of Running event grows in popularity year on year and continues to prove itself to be the highlight of the Scottish sporting calendar.
"Not only is it a great running event attracting runners of all ages and capabilities from home and abroad but it's a superb spectator event, which brings the community together and draws people into Inverness and the Highlands.

"We would congratulate all who took part and give a huge thanks to the local community and army of volunteers who continue to support our event each and every year. The success of the Baxters Loch Ness Marathon and Festival of Running is in no small part down to the sheer enthusiasm and camaraderie of all those who participate whether running or working hard to ensure that the event runs smoothly.
"The event also raises thousands of pounds for our official charity, Macmillan Cancer Support and the many other charities associated wth the event. Entries for the 2019 event are now open and we look forward to getting cracking on the 18th annual marathon event."

Audrey Baxter, executive chairman and group CEO of Baxters Food Group, said:
"We are delighted to continue our sponsorship of the Baxters Loch Ness Marathon and Festival of Running in our 150thanniversary year. This has undoubtedly been one of the best spectator and participant events yet and we'd like to congratulate all who took part including the contribution of the many volunteers, local schools and community to help make this happen.
Bet McAllister, Deputy Provost of Inverness said:

"I am delighted to attend the 17-year anniversary of the Baxters Loch Ness Marathon. The marathon has gone from strength to strength. There are a great amount of charities represented and amount raised for those charities. Baxters Loch Ness Marathon is inclusive, it doesn't matter how far you run, from Wee Nessie, the 5k, 10k and marathon itself, people of all ages and running styles are included. I have had a fantastic day here."

Paul Bush OBE, VisitScotland Director of Events, added:

"Congratulations to all the competitors who ran in the marathon and races. Baxters Loch Ness Marathon and Festival of Running is one of the country's best-loved mass participation events, and we are delighted to see it continue to go from strength-to-strength. Each year, it attracts thousands of participants and spectators to the stunning Scottish Highlands, helping deliver a strong visitor economy for the region and Scotland as a whole."

In conclusion, Laurence Wilson, Challenge Events Programme Manager for Macmillan, said:

"Every year, a huge number of runners head to the Loch Ness Marathon to raise money for Macmillan, all with their own reason to run. Many of our runners are taking on this incredible challenge in memory of a loved one; some really want to improve their fitness; and others simply want to enjoy the amazing views of Loch Ness.
"We are very proud of all the Team Macmillan runners and volunteers and we look forward to many more years of partnership with this amazing event."

Entry for the 2019 Baxters Loch Ness Marathon and Festival of Running, which takes place on Sunday 6th October is now open. Find out more at www.lochnessmarathon.com, on Facebook at facebook.com/lochnessmarathon and on Twitter @nessmarathon – using the hashtag #RunLochNess.