Planning permission granted for new private day case hospital in Livingston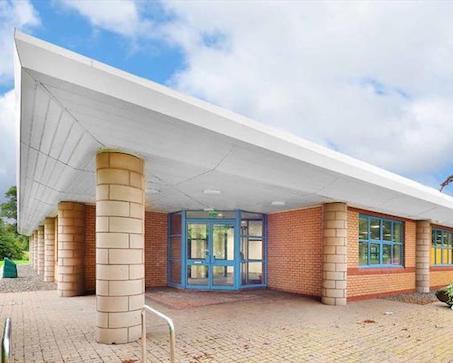 Planning permission for a multi-million state-of-the-art private day case hospital on the Kirkton Campus in Livingston has been granted to Cosmedicare UK, Scotland's fastest growing privately owned cosmetic surgery provider.
The new St Ellen's Hospital, which will be located at 2 Garbett Road, will be housed within a 12,443 sq.ft. single storey pavilion building, in a spacious 3.57 acre plot of land in a mature parkland environment with 62 parking spaces. The building, which is situated in a strategic position and has housed occupiers including Glenmorangie, WL Gore, Quintiles and BskyB in the past, is easily accessible by car and public transport. A significant programme of refurbishment work is being undertaken to bring the existing facilities in line with HIS (Health Improvement Scotland) regulations.
The new facility will provide a multi-disciplinary medical team operating out of two theatres with private en-suite recovery rooms alongside recovery wards. The plans also include three minor ops suites, two treatment rooms and a standalone state-of-the-art laser suite with four consultation rooms including a telemedicine conference suite and training area. The plans have also been designed to maximise space and light with modern and welcoming interiors designed according to Feng Shui principles married with state-of-the-art technology and innovative processes. The hospital design and build is also Covid-compliant positioning St Ellen's at the forefront of medical innovation.
The new hospital building is designed to facilitate expansion, meet a gap in the market and position St Ellen's as a clinical and minor ops centre of excellence with procedures ranging from breast reconstruction, facial rejuvenation, gender reassignment and more invasive operations as well as cancer excisions, aesthetics, lumps, cysts and burns treatments amongst others.
Commenting on the decision, Cosmedicare's founder and managing director Gill Baird MBA, said:
"We are absolutely delighted that our plans have been approved and, with the support we've received for it from the medical community and public. These proposals herald a new era of healthcare provision with St Ellen's delivering a more holistic, practitioner-focused facility than the traditional private hospital set up with the patient pathway central to the service.
"We work with the top surgeons and consultants in the private sector and NHS to deliver the highest standards of medical practise with enhanced technology. As part of the service for our practitioners, we have designed a novel online booking system that will dramatically speed up the appointment process and surgeries schedule, which consultants will be able to directly access and manage thereby streamlining the administration and booking systems."
Cosmedicare worked with Cormack Gracie Architects on the plans and was represented by Burness Paul and BJM Accountants with Ryden managing the lease arrangements. Work is scheduled to commence December 2020 with the hospital opening Summer 2021.
For more information, please visit www.cosmedicare.uk.