First for Scotland with REVIV launch at Harvey Nichols Edinburgh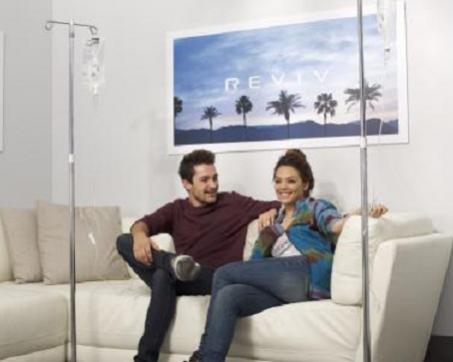 REVIV, the company behind IV Therapy, one of the fastest growing wellness treatments in the UK, has opened its first Scottish clinic – the 80th one to open in the world – at Harvey Nichols in Edinburgh.
The fast pace of modern life leaves the majority of us running on empty with factors such as disturbed sleep, weight gain and often poor diets the cause of many ailments. More often than not, those who display these problems can be dehydrated and lacking vital vitamins and minerals. For the body to function at its peak, substantial vitamin intake, essential nutrients and hydration are vital.
Dehydration can wreak havoc on your body. Even just 2% dehydration can result in numerous detrimental effects; namely stress, loss of productivity, general discomfort and even damaged skin and organs. Several factors can influence an individual's hydration levels from sun exposure to illness, alcohol consumption and reduced fluid intake amongst others. Adequate hydration is of paramount importance to health and maintenance of the mind and body.
However, drinking water or energy drinks and taking vitamin supplements and tablets can only do so much. You will only ever absorb up to 50% of the benefits of oral vitamins as opposed to 100% of the benefits of having an intravenous hydration therapy or booster shot.
REVIV's signature IV infusions and vitamin injections are designed to replenish essential vitamins and antioxidants and to restore hydration levels enabling your body to function at its peak. REVIV therapies are designed to deliver numerous benefits, helping to alleviate tiredness, increase alertness and boost the immune system – providing exceptional, visible and noticeable results. Whilst improving the visual appearance of skin, hair and nails, these therapies focus on effectively improving the inside as well as outside of the body whether its anti-ageing, fatigue, muscle aches, detoxification or rehydration. The results can last for up to a month with booster injections delivering benefits for up to five days.
REVIV was founded in 2012 by four accident and emergency doctors in the US with over 40 years' experience in treating dehydration and restoring energy levels.
A relatively new phenomenon in the UK, REVIV has been popular amongst those in the sporting, high net worth and celebrity worlds. REVIV has experienced rapid growth expanding its operations to six continents and 80 clinics. This year the company demonstrated 30% growth with 30 clinics opened in 2018 alone. There are four flagship outlets in London, Cheshire, Leeds and a newly opened clinic in Manchester as well as a number of satellite clinics across the UK.
Group Commercial Director Julia Couzens, said:
"REVIV provides a completely safe and effective range of intravenous hydration therapies and booster shots, which are proven to be hugely beneficial in preventative health and maintenance. We're delighted to bring the Clinic to Scotland and are already receiving bookings from both male and female clients adopting the therapies to tackle a variety of health and general wellness issues and symptoms from fatigue, menopause and fitness performance to rehydration and skin conditions.
Julia continued:
"We receive a lot of business travellers into the Clinic who can't afford to be ill and view regular therapies as a preventative means.
"Edinburgh is our first Clinic in Scotland but we are building a well-supported network of high end clinic partners and doctors and looking to expand further to support the growth of the business with additional clinics. Whilst IV therapies are our focus, we will soon be announcing a global launch of our World Class Genetics service whereby clients will be able to send us a DNA sample which will provide significant personalised nutritional data. These personalised reports will allow our experts to tailor REVIV products for our clients, which will drive further growth in our core business."
Specialists in their field, REVIV is supported by the highest quality, industry experts and medics – all professionals who are Board Certified Physicians and Doctors, Registered Nurses and Trained Paramedics.
The intravenous delivery of fluids and wellness agents via IV infusion or intramuscular injection is the most efficient way to rehydrate and revitalise the body with key vitamins as they are administered straight into the bloodstream.
Prices start from £29.
The new REVIV Clinic is open at Beyond Medispa at Harvey Nichols from Thursday to Sunday. Appointments and group bookings off-site are available on request. For more information please visit www.revivme.com.