Meaty export deal with Japan secured by AK Stoddart's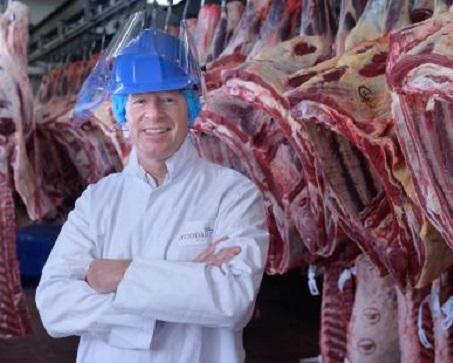 AK Stoddart's, one of the UK's leading food processing companies, has secured a lucrative contract for its beef from Japan as further proof that Scottish quality meat is back on menus around the world.
The deal, worth an estimated £1 million, will help the Ayrshire and West Lothian-based company reach its target of rapidly growing exports as the reputation of Scotch Beef PGI across the world continues to grow.
An initial 20-tonne container of assorted beef products was despatched to Japan last month, set to arrive within the coming fortnight, and will be followed by further deliveries in the next eight to ten weeks. Japan is the third largest economy in the world with around 450 British companies currently operating there from major FTSE 100 companies to small businesses.
A strategic stepping-stone for other Asian markets, Japan offers Stoddart's the potential to tap into this open economy with its large and rich consumer market based in urban areas: the Tokyo conurbation alone is the world's largest at around 35 million people.
After years of seeing UK beef shut out of overseas markets, Stoddart's is aiming for its exports to grow by 60% this year (2020).
The latest contract builds on a preliminary delivery from the company to a showcase event in Tokyo last autumn as part of the Rugby World Cup celebrations, co-organised by Scottish Development International and Quality Meat Scotland
In January last year, Japan approved the export of British Beef following a meeting between Prime Minister Shinzo Abe and former UK counterpart Theresa May. In December, Scotch Beef also made a return to Canada following a campaign supported by Holyrood ministers and the wider food industry. Stoddart's supply Scotch Beef to many butchers and restaurants including Jacob's & Co. steakhouse in Toronto, widely regarded as the top steak restaurant in North America.
Other countries that Stoddart's currently exports to include Germany, France, Italy, Netherlands, Belgium and Monaco.
Animal welfare is the number one priority and the company has built relationships with farming families that go back decades. Many farmers sell exclusively to AK Stoddart's. Unlike some of the largest producers - Stoddart's procurement team are on farms daily – collaborating with the farmers to ensure the highest quality finish. As the team are on the farms so frequently – they are able to select the animals only when they are at their optimum finish. Working with these farmers means they know how these animals have been treated throughout their life, again ensuring the highest quality.
The company was established in 1959 as a supplier to butchers and expanded in the early 90s with a state of the art boning hall in Broxburn, before adding its own abattoir in Ayr in 2000. In 2015, Manifesto Foods acquired the company from the founder Neil Stoddart in 2015.
It is now planning for growth in the post-lockdown era after adapting production to meet social distancing guidelines.
The meat processing industry is traditional and, unlike most of the food industry, still largely manual. This means employees can often working in close proximity to each other. To minimise risk to the company and its employees, many new procedures were put in place – including implementing one-way systems in the factories, changing break schedules and the introduction of additional PPE. This has meant the company has ensured all of its team are able to work safely in the current climate.
Stoddart's has just received a glowing report from Food Standards Scotland (FSS) after reports of outbreaks of Covid-19 in plants in the US and Germany. The FSS report stated that Stoddart's had implemented "robust hygiene control procedures" to minimise the spread of Covid-19.
AK Stoddart's extremely meticulous processing and packaging systems were also instrumental in the Japanese deal as they adhere to the country's high import standards.
Aside from the lockdown, AK Stoddart's says it is concerned at the lack of clear guidance on what the post-Brexit world will look like – and even moving goods between GB and NI could be slowed down by paperwork. However, Grant Moir, managing director of AK Stoddart's said the company was seeing more overseas opportunities emerging and it had taken steps to manage the twin challenges of Brexit and the lockdown.
"As restaurants start to re-open, we are ready to supply some of the top chefs with some of the best beef in the world. This deal with Japan marks an important step forward for AK Stoddart's export plans and we will look to grow and expand on this."
Moir,continued:
"Brexit negotiations have opened up opportunities such as tapping into the US market, which will position us as the first and only beef processor in Scotland to be working with the States. But it has also thrown up challenges in trading and negotiations, it is a lengthy and timely auditing process to be approved for export to Japan and indeed the US. Taking the US in particular, there's a large expat community and affiliation with Scottish culture, the importance to the Scottish economy of having trade links with countries such as the US and Japan is clear and we are working hard to navigate and adapt our business for export as the Brexit process ensues."
Alan Clarke, chief executive of Quality Meat Scotland (QMS) added:
"It's fantastic news that AK Stoddart's have secured such a substantial deal to supply our world-class Scotch Beef PGI into Japan – a market which is worth almost £130m to the UK red meat industry over five years.
"Japanese consumers are known for having a hunger for the best quality products and Scotch Beef fits the bill perfectly. Scotch Beef is a premium product, born, reared and processed in Scotland which is renowned across the world for its excellence and taste, as well as its leading levels of traceability, assurance and welfare standards.
"We look forward to continuing to work with AK Stoddart's to grow their Japanese presence and their wider export portfolio, ensuring that Scotch Beef can be enjoyed by consumers in new and emerging markets across the globe."
Commenting on the deal, Fergus Ewing, Rural Economy Secretary, said:
"I am delighted that AK Stoddart's is continuing to grow its overseas exports, particularly during such challenging times. This deal shows that there remains a strong demand for top quality Scottish produce – and how important it is to protect and promote that in the future, to enable Stoddart's and others to sell more produce overseas.
"Japan is an important part of our international trade landscape and we are committed in assisting Japanese companies with imports of our fantastic high quality Scotch Beef."