Gloriously Undiscovered… by Principal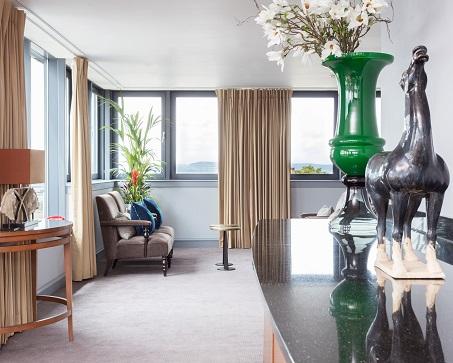 Behind closed doors you'll find two new seriously special event spaces on George Street
As temperatures continue to rise and festival anticipation builds, the award-winning Principal Edinburgh George Street Hotel unveils two seriously special spaces that offer a view of things to come with a pop-up Festival rooftop bar and peaceful library haven this summer.
Ideal for a plethora of event requirements from small private gatherings, dinners and birthday or anniversary celebrations to brand launches, and meetings, the two distinct and unique areas offer adaptable spaces that can be tailored for the contemporary to the more traditional event depending on the client's need.
For the Festival duration, The Forth View by Principal is being promoted in the short term as a new rooftop bar with private terrace and spectacular views of Edinburgh Castle, the Forth and city skyline. Named threesixty:forth, this is principally a pit-stop for alfresco cocktails, craft beers and champagne. Its available for hire but is being launched as a pop-up members bar area, an undiscovered gem in the City with its own concierge service and bar.
Karen Hendry, Regional Marketing Manager for the Principal Hotel Company said: "If you're looking for a bar with a view, our new rooftop pop-up offers a secluded getaway for those in the know this summer. It's been our hidden secret and a perfect place for hire. We've also made the decision to launch it as a pop-up bar targeting selected corporates and contacts, the reason for a member only stance has primarily been driven by the size of the space and the terrace. It can hold up to around 70. We'd love to open it up to everyone but realised that the space is limited so had to dip our toes in the water with this in mind."
Karen concluded: "The Forth View gives you access to unparalleled views of Edinburgh and the fireworks. The city comes alive during the Festival and we love the buzz and excitement but there's something to be said for knowing you can escape to more secluded spaces where you can enjoy great service, great food, cocktails and drinks whilst taking in the views and watching the fireworks."
For event enquiries for the Library and Forth View, please contact the sales team on 0131 341 2878. Please note that the Forth View pop-up is open from 3pm to midnight on selected dates throughout August.