Epiroc lease deal breathes new life into key Grangemouth site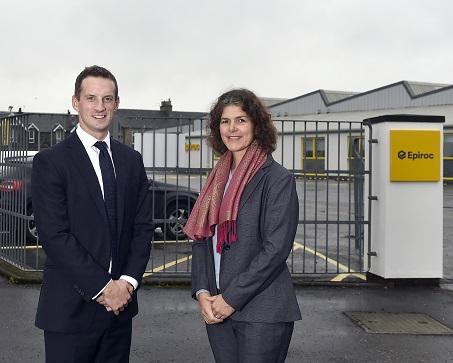 International specialist in drilling product design and supply, Epiroc, has strengthened its presence with the move to their Grangemouth new industrial premises from leading property developer Bellair (Scotland) Limited.

The lease deal sees Epiroc relocate from several different locations in Stirling to all under one roof at a fully modernised warehouse with office accommodation, design, distribution and supply facilities in a prominent Grangemouth location.

The 45,000 sq ft premises in the town's South Lumley Street has achieved a rate of £4.50 per square foot.

Bellair took over the prominent 0.74 hectare site, which had previously operated as a knitwear factory, four years ago.

The Falkirk-based property development and investment company embarked upon an intensive 18-month refurbishment programme once the existing lease expired to return the site to use. Work included significant external aesthetic improvements, designing and installing a new roof, electrically operated doors, new concrete flooring and upgraded security and drainage systems.

It has also an exciting period of transition for Epiroc as a company, formally part of the Atlas Copco Group and originating from the Mining and Rock Excavation Technique and the Hydraulic Attachment Tools divisions of Atlas Copco. After much work and planning Epiroc celebrated its' floatation on the Nasdaq Stockholm in June and its full independence and separation from the Atlas Copco Group.
The lease deal with Swedish-based Epiroc represents a significant boost for the popular Grangemouth area, home to one of Scotland's largest petrochemical complexes and well-connected to the central belt motorway network.

Colin Campbell, Director of Bellair (Scotland) Limited, said:
"We're delighted to have brought this prominent warehouse space back to life with all of the benefits that brings to the local economy with the addition of over 30 jobs to the area.
"We look forward to seeing Epiroc settle and continue to grow in their new base."
Councillor David Alexander, spokesperson for Economic Development at Falkirk Council, added:
"It is really encouraging to see vacant industrial properties brought back into life to create new employment opportunities. Its particularly pleasing to see this investment taking place here in Grangemouth and I'm delighted to see the joint work of Epiroc and Bellair realising such success. We look forward to seeing the company grow in the future and help in boosting the local economy."
Bellair was represented in the deal by agents JLL, DM Hall and Montagu Evans. Andrew McCracken of JLL, concluded:
"This is a great deal for our client and for Epiroc, but also for Grangemouth as the whole. Here we have another fantastic occupier to really push the diversity of tenants in the area. My client saw a great opportunity to bring this building back to a lettable condition. They have done a great job on the refurbishment, resulting in this letting".

Epiroc was represented by G&S.

Bellair (Scotland) Limited provides a full range of property development and investment services. Eprioc develops and produces innovative drill rigs, rock excavation and construction equipment, and provides world-class service and consumables.