New Whisper of Cashmere collection by Knockando Woolmill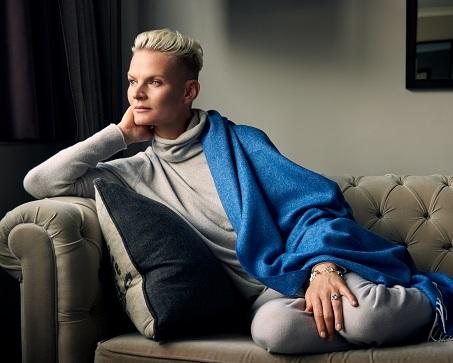 The internationally acclaimed Knockando Woolmill in the Scottish Highlands has unveiled a luxurious limited-edition collection of exquisite, soft and beautifully woven throws and scarves with designs inspired by the countryside.
This exclusive new 'Whisper of Cashmere' collection features three different designs of stylish throws and scarves. All are inspired by the Scottish landscape and warmer seasons with the designs based on a delicate neutral palette brightened with pops of blues, pinks and yellows that are reminiscent of pretty wildflowers, meadows and blossoms.
Delightfully soft with a cashmere and lambs-wool blend, the new throws are supersized and perfect for wrapping up on longer nights or dressing interiors with the scarves delivering stylish accessories that transcend day to night.
Located in the heart of the Spey valley for over two centuries and specialising in exquisite collections of blankets, scarves, cushions, throws and elegant, timeless tweed accessories, Knockando, among the last mill of its kind, dates back to 1784 when its first weavers fed fine yarn spun from local fleeces through handlooms.
Today, the Mill has a modern vision with craftsmanship at its core. Its highly coveted accessories and interiors collections are one of a kind pieces slowly crafted on rare vintage and modern looms with meticulous attention to detail using only the finest natural quality yarns. Exclusive, traceable – right down to individual flocks of sheep – and sustainable, each inch of cloth is entwined with centuries of skill, craftsmanship and Highland heritage.
John Mulligan, operations director for Knockando Woolmill, said:
"Our new Whisper of Cashmere collection has been hotly anticipated and perfectly complements our Geelong lambswool collections. We've worked closely with a local designer to create a collection that's original, stylish and inspired by our local landscape. These new pieces offer the perfect investment, self-treat or luxury gift and we're excited to unveil them."
The Whisper of Cashmere collection by Knockando Woolmill is retailing at £450 for the Throws and £170 for the scarves. Each piece comes beautifully packaged in a presentation box and tissue. Available to buy on line via www.kwc.co.uk and selected independents.
The Mill Visitor Centre and coffee shop is open from Tuesday to Saturday from 10am to 4.00pm. Guided tours of the Victorian Mill are available.