Retail moves for Knockando Woolmill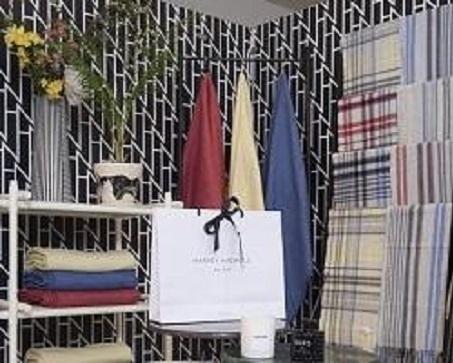 Knockando Woolmill, Scotland's oldest working mill in the Scottish Highlands, has secured a prestigious retail listing with leading homeware and lifestyle boutique Pad Lifestyle and luxury department store Harvey Nichols' Forth Floor concession in Edinburgh and Knightsbridge, London.
Pad, founded by interior designer and entrepreneur Anna Atwal, specialises in carefully curated design-led home, fashion and lifestyle brands with a showcase of international brands and independent designers across lifestyle stores and Harvey Nichols' concessions.
The internationally acclaimed Knockando Woolmill creates exquisite, limited-edition collections of soft and beautifully-woven oversized blankets, throws, scarves and tweed accessories with designs inspired by the Scottish countryside.
Recently featured on BBC for a historically significant loom restoration project which saw the renovation of two Victorian Dobcross looms, Knockando is among the last mill of its kind, dating back to 1784 when its first weavers fed fine yarn spun from local fleeces through handlooms. Knockando is the last survivor on mainland Britain of a local industrial woollen mill with the loom restoration allowing today's textile designers to see the traditional methods of production working alongside modern looms first-hand.
Today, Knockando Woolmill draws on its rich heritage to craft highly coveted accessories and interior collections for the luxury market. Specialising in premium-quality yarns and fabrics in neutral palettes and jewel-like colours with innovative designs, the Mill creates one of a kind pieces slowly crafted on these rare vintage Dobcross looms and modern looms with meticulous attention to detail.
Exclusive, traceable – right down to individual flocks of sheep – and sustainable, each inch of cloth is infused with inspired designs and centuries of craftsmanship and Highland heritage.
Anna Atwal, founder of Pad Lifestyle, said:
"The history of Knockando Woolmill and the fact that its Victorian looms are still in use today is really fascinating. At Pad we are really interested in the journey of design and the story behind our brands and I think there's a real engagement now with the public who have an appetite for products that can tell that story - whether it's about sustainability, culture, a specific material that's used, where it's from, the craftsmanship. Of course, the quality of Knockando's products speak for themselves so we are looking forward to seeing our customers experience this at our Harvey Nichols stores."
Commenting on the new listing, John Mulligan, operations director for Knockando Woolmill, said:
"This is an exciting development in our retail strategy as we have historically sold Knockando Woolmill products through the Mill gift shop and online. We are extremely proud to join the stable of quality brands represented by Pad Lifestyle bringing our products to a wider audience via the Harvey Nichols' concessions in Edinburgh and Knightsbridge."
For more information, please visit www.padlifestyle.com or www.kwc.co.uk.