Laing Edinburgh shines bright with new £1.7m George Street store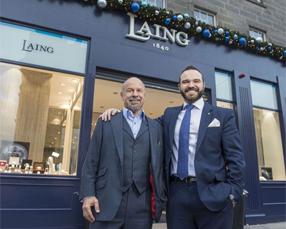 In a historic move for Scotland's most prestigious and finest independent family jeweller, Michael Laing OBE, chairman of Laing Edinburgh- celebrating its 175th anniversary this year - today (Friday 18th December)fulfilled a lifelong dream as he officially opened the doors to a new £1.7m store on the capital city's prestigious George Street.

The new three-story £1.7 million flagship store occupies the corner site at 72 George Street, which formerly housed Barclays Bank. This stunning building, which has benefited from over a million pound invested in its design and fit-out replaces Laing's diamond and luxury watch store at 29 Frederick Street, which Michael has occupied since 1978.

Destined to be a landmark on Scotland's retail scene, the new store, alongside the adjacent office and workshops, makes Laing Edinburgh the largest jewellery store outside London, occupying 9,000sq ft.

The new store is beautifully decorated with a blend of traditional and contemporary feel. In addition to Laing's fine diamond jewellery and luxury brands such as Astley Clarke, Rolex, Cartier, Jaeger le Coultre, Mikimoto and Marco Bicego, the outstanding 175th commemorative necklet will be on display here.

Commenting on the official launch of the new showroom, Michael Laing OBE, said:

"Today represents a significant milestone in our family history, opening such a magnificent store on Edinburgh's George Street is the fulfilment of a lifelong dream and the culmination of months of work to get to this point.

"We'd been looking for the right location for Laing on George Street for many years and when this prominent building came to market, we knew it was the right home for Laing. It's a traditional Georgian building in a superb location and enjoys extensive window space so customers can more easily browse our luxury brands and diamond collections.

"We're extremely proud of our new luxury showroom it's a true celebration of timeless beauty and craftsmanship blending contemporary design with the traditional splendour of the Georgian period.

Laing Edinburgh commissioned Eric Young & Co, who have steered the property deal, alongside leading designers Skakel & Skakel.

The new store is also home to Laing's workshops and team of craftsmen and specialist designers as well as the service department, which caters to the city's consistent demand for jewellery and watch repairs.

The second Laing Edinburgh showroom at 25 Frederick Street – which offers luxury brands including Omega, Longines and Chopard – remains in its current location.

For more information, please visit www.laingedinburgh.com or call the new store on 0131 225 4513.