Kimpton unveils exclusive collaboration with acclaimed Scottish artist Stuart Mcalpine Miller in Edinburgh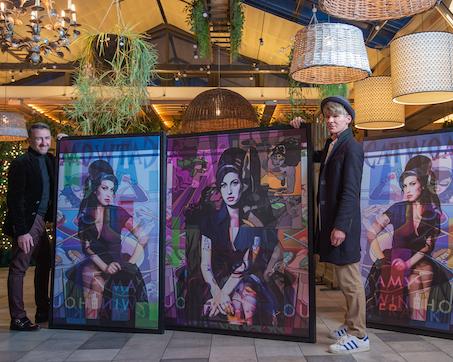 The Kimpton Charlotte Square Hotel in Edinburgh has secured an exclusive collaboration with Scottish contemporary artist Stuart McAlpine Miller who is unveiling an extension of his latest series of work, Split Personalities // Lost Lives, within the hotel's event and now art space, The Gallery in Edinburgh.
To commemorate the partnership and the creation of new additions to the series for the hotel, McAlpine Miller created a bespoke installation featuring three Amy Winehouse canvases for the Kimpton's George Street windows. With little happening on George Street during lock-down, shoppers and passers-by can now window shop a taster of these ground-breaking works, which explore the complex behavioural changes induced by music, and has become, in Stuart's words, "the end product of both my interest in music and my attempt to reveal the individual behind their artform.
"Music has for me, like many others, greatly influenced my own approach to my art and the potential it creates from within," continues the artist, who will be opening his exhibition in January at The Gallery on Edinburgh's iconic George Street.
Researching the intricacies of the creative process through his fascination with pop culture in general, and music in particular, McAlpine Miller was also looking for behavioural cues. Music, he explains, "has similar suggestive undertones to changes within human behaviour: as we learn to adapt to new situations, we take on a different persona by way of a coping mechanism."
'Split Personalities // Lost Lives' reveals the alter ego and the complexity of the human mind," he continues, as an evolution of his reflection on today's mass-consumerist society. It's exciting for me to bring my work to a different audience with the opportunity for the Hotel's guests and visitors to enjoy a Gallery experience and view the latest additions within the series."
The layered territories of McAlpine Miller's latest work are being exhibited at Kimpton Charlotte Square as part of his new residency in this design-led luxury boutique hotel. Perched at the edge of a private garden in Edinburgh's New Town, this one-of-a-kind hotel embodies the ethos of Kimpton Hotels & Restaurants, born from celebrating human connections in all their beauty and complexity.
The blend of traditional techniques and resolute modernity is not unlike McAlpine Miller's own practice of blurring the lines between past and present, through illusory techniques.
Oil paints, collaged compositions, cut and paste or cartoons are masterfully mixed with an unparalleled flair for reflecting on the unrealistic expectations of today's society.
Commenting on Stuart's work, Estelle Lovatt, art critic, said:
"All the things that David Hockney can do with an iPad in terms of colour, collaged composition and cut-and-paste layering, McAlpine Miller takes full circle by doing New School in an Old School style all, incredibly, with his oil paints! McAlpine Miller is one of the best artists of our time, painting about our time, in the best way I've seen. This is how he is changing the course of Art History – much in the same way that Da Vinci, Monet and Picasso did. The art of tomorrow starts here."
Kieran Quinn, general manager of Kimpton Charlotte Square, added:
"The Kimpton luxury boutique hotel brand was founded by Bill Kimpton who's legacy was to encourage heartfelt human connections through memorable guest experiences.
"This exclusive collaboration with Stuart McAlpine Miller and the new Gallery exhibition we're creating for guests of The Kimpton Charlotte Square Hotel is a one of a kind experience helping them to connect creatively and culturally through art."
Born in Ayrshire, Stuart McAlpine Miller graduated in 1990 and was also shortlisted for the Provost Award at Kelvingrove Art Galleries and Museums in 1996. He was the artist-in-residence at The Savoy Hotel, London. Eight paintings in a collection called 'A Time for Reflection' were unveiled in November 2012. He also collaborated with legendary footballer Pele to create a series of paintings to celebrate this sporting icon's 75th birthday and has enjoyed successful exhibitions with galleries such as Mayfair's Halycon Gallery, Castle Gallery Fine Art, Connaught Brown, Duncan Miller, Catto Gallery, Kings Road Gallery and Rebecca Hossak Gallery in London, SOTA Gallery in Hong Kong as well as the Hoerle-Guggenheim Gallery and Ruth O'Hara Gallery in New York.
For art enquiries, please contact stuart@mcalpinemiller.co.uk or visit www.mcalpinemillereditions.co.uk or www.kimptoncharlottesquare.com.