Printing Press Bar & Kitchen serves up fresh summer menus and new Taittinger pop-up Bar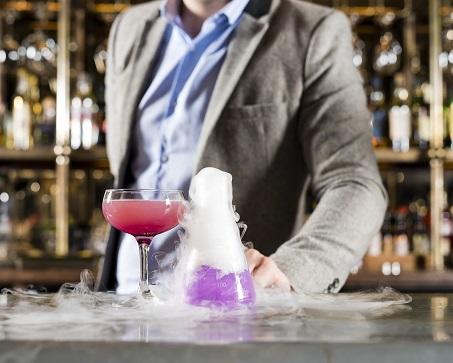 Edinburgh's stylish Printing Press Bar & Kitchen has launched a new Taittinger pop-up bar and fresh menus for summer, infused with sublime flavours and innovative literary-themed cocktails that will excite and pack a punch on a hot day.
The new Taittinger bar is an experience for Champagne lovers with a paired bar menu and select Champagne by the glass available for those wanting to experience the very best of France's most prestigious Champagne house. Expect specially created Champagne cocktails and cocktail master-classes throughout the summer.
A myriad of inspiring light dishes from garden, sea and land and deliciously decadent desserts are the hallmarks of the new summer food menus with quality seasonal ingredients and exciting flavours creatively served up by head chef Colin Fleming and his team.
Starters include confit duck with Asian slaw, roasted cashew nuts, lime and soy dressing as well as the No. 25 Principal Gin-cured trout with pickled mussels, avocado and beetroot; hand-dived scallops, carrot remoulade, basil and lemon butter and cashel blue cheese with pickled poached pear, chicory and mustard seeds.
A choice of tempting mains includes Wellington Farm pork belly with pulled daube, haricot beans and asparagus; stone bass with peas, ham hock, charred baby gem and onion and charred cauliflower with golden raisins, curry oil and pickled celery.
Baked to perfection, the new puddings are also a delicious treat: duck egg custard tart with raspberry ripple ice cream; pineapple and polenta upside-down cake teamed with Sussex sauce and coconut ice cream, strawberry panna cotta, balsamic marshmallow and strawberry sorbet and sea buckthorn cream, madeleine sponge and grapefruit gratin amongst others.
The new cocktail menus will get your imagination racing with drinks that long to be adored, a celebration of Scotland's literary heritage and a nod to the Hotel's former resident, the novelist Susan Ferrier, these cocktail concoctions are quite literally a journey through some of literatures most exciting moments.
From Fairy Tales that are fun and enchanting to Short & Sweet, Love Stories and Myths & Legends, this new menu will not disappoint: George's Marvellous Medicine - Absolut Raspberry vodka, Solerno Blood Orange liqueur, cranberry, lemon, Monin Barbe e Papa and dry ice; Skulls in the Stars – Crystal Head Aurora vodka with crème de cassis, apple, lemon, sugar, egg white, blackberries; Stay Gold, Ponyboy – Disaronno amaretto, apricot brandy, Grand Marnier, pineapple, lime and sugar and The Devil Wears Principal – a stylish concoction of Principal No.25 gin, cranberry, lemon, sugar, raspberry, mint and peach bitters amongst many more.
Namiki Ikeshima, business development manager, said:
"We've embraced summer at the Printing Press Bar & Kitchen. We have an exciting partnership with one of the world's leading Champagne houses and a new Taittinger pop-up bar, which is the perfect retreat for those looking to enjoy the finest champagne and cocktail combinations.
"Our new summer menus reflect what we're renowned for, great tasting food and cocktails. The quality and expertise of our head chef Colin Fleming and his team are showcased through dishes infused with sublime flavours and the finest seasonal Scottish ingredients.
"We offer a combination of laid back lunches and more sophisticated drinking and dining experiences at the Printing Press Bar & Kitchen. We've got DJs throughout summer and have another surprise up our sleeves with the launch of a new pop-up rooftop bar and private terrace planned for selected dates in August. It's remained gloriously undiscovered but is our little secret space and we'll be unveiling more on that soon."
A La Carte menus are available all week long. A set lunch is offered from Monday to Thursday 12 noon to 6.30pm with two courses priced at £15 and three courses £21. The Principal's popular roast is still served every Sunday from 12 noon to 5pm with the menu priced at £19.95 for two courses with children priced at £9.95 and under-fives dining free.
The Printing Press Bar & Kitchen is located at 21-25 George Street EH2 2PB. Table reservations can be made on line via http://www.printingpressedinburgh.co.uk/ or call 0131 240 7177 to book a table.